The bubbly flowed freely as Sandra Oh and Perrier-Jouet Fleur de Champagne celebrated this year's Emmy nominees.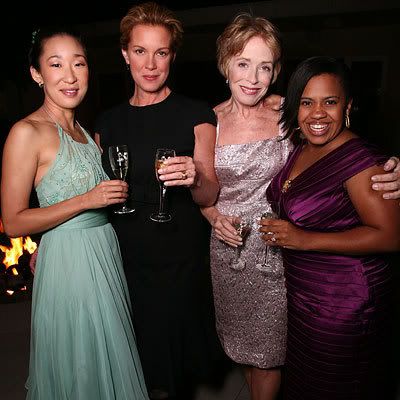 Sandra Oh, Elizabeth Perkins, Holland Taylor and Chandra Wilson
Sandra Oh hosted an intimate evening at a private home in the Hollywood Hills to toast her fellow female Emmy nominees. Oh's Grey's Anatomy co-star Chandra Wilson, Elizabeth Perkins of Weeds, and Holland Taylor of Two and a Half Men all arrived at the exclusive event in hybrid cars provided by EcoLimo to enjoy a laid-back dinner and plenty of Perrier-Jouet Fleur de Champagne. "I'm hoping this event will continue as a yearly invitation to all the female nominees to get together and get to know each other, because on the big day it's so crazy and you're not completely in your body," Oh said of her attempt to start a new Emmy tradition.
Chandra Wilson and Sandra Oh
Breathtaking city views enhanced the al fresco dinner, along with the Murano crystal chandelier that seemed to hang from the sky above the dining table. Throughout the night, Oh spun tunes from her own iPod for guests like Chandra Wilson. Elizabeth Perkins was even inspired to pull out her playlist and help DJ as well. "This is the one Emmy event I wanted to attend. This is not work." said nominee Holland Taylor.
Sandra Oh: "I was going over the list of women and almost everyone there, if I don't know them personally I've known them because I've been watching them for years," said Oh, who snapped a few photos for posterity. "Like Elizabeth Perkins, I've admired her work for years. And to now find out where she has her tattoo is such a great thing! You just get to know people so much better."
.....
...........................................................


Guests received their invitations to the exclusive dinner in pine boxes adorned with Phalaenopsis orchids and wheatgrass. The soiree space was adorned with flowers and candles in shades of green, Perrier-Jouet's signature hue. The sounds of corks popping added to the ambience—each dinner course was complimented by a different Perrier-Jouet Fleur de Champagne vintage.
The Atmosphere
Dinner took place outdoors at a private Hollywood home with panoramic views overlooking Los Angeles. A 16-candle Murano crystal chandelier hung above the table, as if suspended from the clouds. "It was a wonderful Hollywood experience, a beautiful modern house with a fantastic view and this beautiful table with a gorgeous chandelier hanging in mid air," said Oh. "I'll have to steal that idea and put it on my outdoor patio!"
The Menu
Chef Ludovic Lefebvre prepared a menu of delectables that were paired with Perrier-Jouet bubbly. Marinated tomato with feta mousse and olive oil was served with Fleur de Champagne Vintage 1999. Scallop and baby spinach with curried yogurt sauce accompanied Fleur de Champagne Rose Vintage 2002. For dessert guests indulged in exotic tropical fruit cheesecake with spicy sorbet. "How I prepare for the red carpet is to eat as much as I can. I mean, it's really true you have to eat, eat, eat a lot!" said Oh.
Source: InStyle